The Parable of the Flood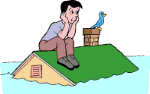 The man continued to pray and hold on to his vision. As the water began rising in his house, he had to climb up to the roof. A boat came by with some people heading for safe ground. They yelled at the man to grab a rope they were ready to throw and take him to safety. He told them that he was waiting for God to save him. They shook their heads and moved on.
The man continued to pray, believing with all his heart that he would be saved by God. The floodwaters continued to rise. A helicopter flew by and a voice came over a loudspeaker offering to lower a ladder and take him off the roof. The man waved the helicopter away, shouting back that he was waiting for God to save him. The helicopter left. The flooding water came over the roof and caught him up and swept him away. He drowned.
When he reached heaven and asked, "God, why did you not save me? I believed in you with all my heart. Why did you let me drown?" God replied, "I sent you a pick-up truck, a boat, and a helicopter and you refused all of them. What else could I possibly do for you?"
—————————–
I'm sure Jesus ran across this quite often, which is more than likely when the Blind man came to Jesus and said "Have mercy on me." and then Jesus asked, "What is it you would like me to do for you?"  What a question hu? I used to think "Isn't it obvious and of course, Jesus being the Son of God, He already knew this mans need, but he asked him anyway. Why? I believe because of the principle above. Did the man even have enough faith to ask and if he did would he actually follow the directions that Jesus would give him? We see this quite often. Why are we in general so hard headed? In the Old Testament, we see there was a commander named Naaman who had leprosy. To make a long story short he was told to meet up with the prophet of God Elisha who gave Naaman instructions through his servant to Naaman to wash in the river Jordan seven times and his flesh would be clean from leprosy. The story goes on in verse 11 of 2 Kings 5
11But Naaman was wroth, and went away, and said, Behold, I thought, He will surely come out to me, and stand, and call on the name of the LORD his God, and strike his hand over the place, and recover the leper. 12Are not Abana and Pharpar, rivers of Damascus, better than all the waters of Israel? may I not wash in them, and be clean? So he turned and went away in a rage. 13And his servants came near, and spake unto him, and said, My father, if the prophet had bid thee do some great thing, wouldest thou not have done it? how much rather then, when he saith to thee, Wash, and be clean?14Then went he down, and dipped himself seven times in Jordan, according to the saying of the man of God: and his flesh came again like unto the flesh of a little child, and he was clean.
I'm glad for Naaman's sake he had a change of heart and decided to follow the instructions that were given to him indirectly from The Lord. When he did, his skin was clean!
I run across this quite often with presenting Young Living essential oils to people. I share with them my experience I've had or what other people had, and they end up like the man waiting on God to do something. Well, just like the parable of the flood, God HAS DONE something already. He has already provided the plants for us. He has provided the knowledge in knowing which plants to use for what and how to distill them correctly to get the best possible potency from them. He has provided it as easy as having it in a bottle or some other type of container to take from it what we need, so we don't have to go out and find the plant and do all the necessary things to use it for our benefit. AND he provided people like myself to share with YOU, the benefits of these oils and oil infused products so you can use them for yourself and your family. So, don't be like the man in the parable of the flood. And even at first if you are like Naaman, think again, and decide to take action on what has been clearly given to you and don't let any side thought of any type or any excuse stop you from your blessing! Because that's what these oils are, a blessing.
Excuse: They are so expensive, I can't afford it right now.
Answer: They are expensive compared to what?
Excuse: I can find them cheaper else where.
Answer: You can find plenty of inferior products on the market everywhere that cost less. You won't find any better pure product than Young Living essential oils. I know, I'm like you. I like the best price for my money, but I also like what I'm buying to work and be safe.  See: Are Young Living Products Really Better? 
Excuse: Synthetic medicine prescriptions  are better than essential oils
Answer: We are not here to replace any medicine, or prescribe, or diagnose or treat any illnesses you have. See FDA Disclosure Instead we are here to offer you a natural way to support all functions of your body, mind, and spirit. See your Doctor if you have any questions or concerns.
Excuse: I tried Essential oils before, and they didn't work.
Answer: Were the oils you tried from Young Living? See Disclosures. Also be aware that because essential oils are the essence of a plant(s) that every body could respond differently to each oil. If one oil doesn't work for what you expect it to do, try another one or a combination of them.
Excuse: I can just go down to my local drug store and buy an over the counter product.
Answer: There are thousands of over the counter products that are great. And then there are thousands of them that are not so great, even bad for your body. Do your due diligence and read the ingredients on what you are considering using on or in your body. Google is our friend. (A techie term). Use Google and research any ingredients you don't understand and see if there are any toxic ingredients that could cause more harm than good. We must be our own steward. If you don't look out for yourself, who really will? I have found that most over the counter products at best to be iffy, and at worst to have ingredients that are found to be toxic in one form or another. Some very serious! It's much easier to rely on a company that I know uses all natural products as Young Living essential oils do. I have 100% confidence in their oils and oil infused products for myself and my family. I'd much rather pay a little extra if need be to know that I am putting in or on me something that is safe than something that can harm me or my family, if not immediately, then in the long run. To save a few bucks and risk my health or the health of my family? No thanks! I'm sticking with Young Living.
So, it's time to make a decision and take action. Young Living essential oils and their products are not a "magic pill" nor should they be used as such. When you incorporate them into your healthy style of living, you'll be pleased to experience for yourself the high quality of each product. I'd highly suggest starting out with the Starter kit to get an over all base of oils that you can use along with a diffuser so you can diffuse the oils into the air. If you need something in addition to what is in the Starter package, you can add it to your order. Buy it wholesale by becoming a distributor. It doesn't cost you extra to be a distributor, and you'll be saving money when you do. Then at any time, you happen to share the great results you have been having with Young Living oils and tell someone else who also buys the oils through your distributor number, you'll make a commission and save them money too when they buy wholesale with their own distributorship number!
When ordering enter in Enroller and Sponsor areas this number: 1085586
Phone Orders
1-800-371-3515
 (toll-free Canada & US)
Monday–Saturday: 
5:00 a.m. to 10:00 p.m. US MT
Questions?
If I invited you to this page or you just happened upon this page and have questions or want more information, you can Email me at DexterDBlack@comcast.net or call me at 717-467-5088. If someone else invited you, please get back to the person who sent you here for further ordering or informational questions.
You can also find me on facebook: https://www.facebook.com/WealthandRiches
May your days be filled with good health, good friends, good food, and most of all; much love,
Dexter D Black
Disclosure Link http://dexterdblack.com/disclosures